Veronika Batelková
(my adress)
7th May 2021
Department of Information and Library Studies
(their address)
Dear sir or madam,
I am thrilled to have an opportunity to apply for an Erasmus+ study programme. In this letter I would like to introduce myself and express my motivation for spending one semester abroad.
As a bachelor student of media and political science, I have spent one semester in Germany in 2018. These few months on a student exchange caused a change of my priorities and goals both in academic and personal life. In fact, I can honestly say that it gave me maybe more lifechanging experience than the rest of my bachelor studies.
After coming back to the Czech Republic, I became a member of Erasmus Student Network (ESN) and organized dozens of events for exchange students from all over the world. I was also involved in a national level in ESN as the Local Representative and visited many national and international events concentrating on student mobilities including General Assembly of ESN in Thessaloniki. I feel like a proud member of "the Erasmus generation". Moreover, I expressed my passion for mobilities in my bachelor thesis which concerns on exchange students in the Czech Republic. Now, I would like to experience the mobility program from an exchange student's view one more time.
Last time I spent my Erasmus on the west in a country full of rules, precision and punctuality. I also had an advantage of speaking German language. This time I hope for another and slightly different experience. I am ready to accept the challenge of a language I have never spoken before and a country which I don't know very well. I believe it can really enrich me.
My first choice is Hungary. I saw some courses about media in the curriculum and it makes me curious about Hungarian point of view on the topic of media, because their media situation in terms of democratic principles is quite different than what I am used to from the Czech Republic. I also find many courses from Faculty of Music and Visual Arts, Faculty of Business and Economics, Faculty of Engineering and Information Technology and Faculty of Humanities and Social Sciences interesting and related to my study field which is Information and library studies.
Estonia is my second choice. If I studied there, I would for sure be interested in their e‑government experience and also about their media education policy, since media literacy, which I am interested in, is on a very satisfactory level there. University courses such as Perception and Attention in Digital Media, Self-Regulated Learning in Serious Digital Games or Project Management in the Context of Youth Work sound also very interesting to me.
Thank you for spending time reviewing my application. I am extremely motivated and willing to take on new challenges.
Yours faithfully,
Veronika Batelková
This is my cover letter for my Erasmus+ exchange. I apply for one semester in Estonia or Hungary.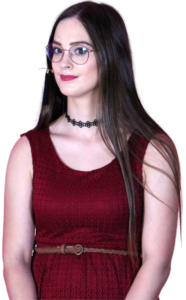 Veronika Batelková – a student of Information and Library Studies. I made the English version of the portfolio as a place for all my English homework for the subject Librarian English.